Using specialty balloons this festive season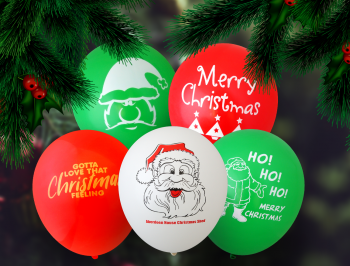 With Christmas just around the corner, now is the best time to start planning your
Christmas parties and get-togethers with family and friends. If you're looking to
change things up this year, take a look at our top tips on how to use specialty
balloons to deliver some holiday cheer.
Specialty balloons for invitations
If you want to make an impression when sending out your party invitations this
festive season, why not toss the regular card-style invitations, and send a
personalised balloon! With Specialty Balloons, you can have your own design printed
on a balloon. The invitees receive their balloon, they get to blow it up to find out all
the party details.
Holiday décor
As well as having your own balloons printed, think about how you can use balloons
in non-traditional ways to add something extra to your party. Why not create a
christmas tree out of balloons, or drape strings of gold and silver balloons around
the room instead of the traditional tinsel.
Next level
If you need to plan a corporate Christmas event, you can take your company's
branding to the next level by having custom foil balloons printed. Your party will
stand out from the pack with your logo printed professionally on helium-quality foil
balloons.
There are so many ways you can use balloons to take your festive season function up
a notch. Whatever your needs this Christmas season, our expert team can help you
find the solution, so give us a call or email today to get started in time for Christmas!