Five Advantages of Using Balloons for an Effective Advertising Campaign
From small entrepreneurial endeavours to international brands, businesses of all types and sizes use balloons to reinforce their message or product.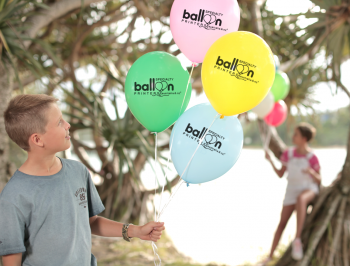 If you're looking for innovative ways to attract attention to your promotional campaign, product or event, balloons are a fun, colourful way to get your message out there.
Here are five advantages of using balloons in your business.
1. Balloon Advertising is Cost-Effective
Balloons can be seen from a distance as air-borne banners, an eye-catching enticement to draw people to your business.
When used as giveaways, they remind customers of your product or service. They also serve as innovative business cards, with your company name, logo or other information printed on the surface.
They are economical to produce and the more you order at a time using the same artwork, the more economical they become.
2. Event Promotion
Large displays can be used onsite to draw attention to the event venue. The display can present customised messages or be formed into designs that complement the theme of the event or the product being promoted.
Balloons can also be used as table decorations or to mark reserved chairs.
Distribute individual balloons as souvenirs with your campaign slogan, event name or company logo to each guest.
3. Balloons Grab Attention
Using balloons as an advertising medium is a creative way to draw customers into your establishment and a fun way to display your brand.
Think of a balloon display as a moving billboard that can be strategically placed almost anywhere on your property.
If your storefront is not visible from the street, use balloons to highlight your business to passing foot and car traffic.
Use balloons in archways as engaging creations that display a message or as interactive artwork.
Balloons can feature photographs, be made into customised shapes or display cartoon and movie characters. Balloons come in all sizes and make an eye catching outdoor creation that will display your message and logo.
4. Balloons Customised to Your Specifications
If you'd like specific colours, designs or shapes, our in-house designers and graphic artists work with you to make sure you get the product you want.
Our team will help you select balloons of the appropriate size and shape that are effective for your advertising campaign. Printing can be done on one or two sides so you can exhibit multiple messages, text, logos or artwork.
Our extensive range of balloon colours lets you choose what complements your decorative theme or logo.
5. Balloons as Brand Promotion
Display a logo in white print on a black balloon. Print your company's motto on one side and the logo on the other.
Balloons can also be moulded into product replicas. Your product can be displayed as a larger-than-life creation that gets your sales message out to the public.
Balloon advertising displays continue to work even when you're away. Helium balloons stay inflated up to 10 hours and air-inflated balloons will last months if kept away from direct sunlight or heat.
For more than 30 years, we've been providing custom designed and printed balloons to businesses in Australia and New Zealand. Shop here for our full range of products or call 1300 720 230.