How Balloon Advertising Attracts Attention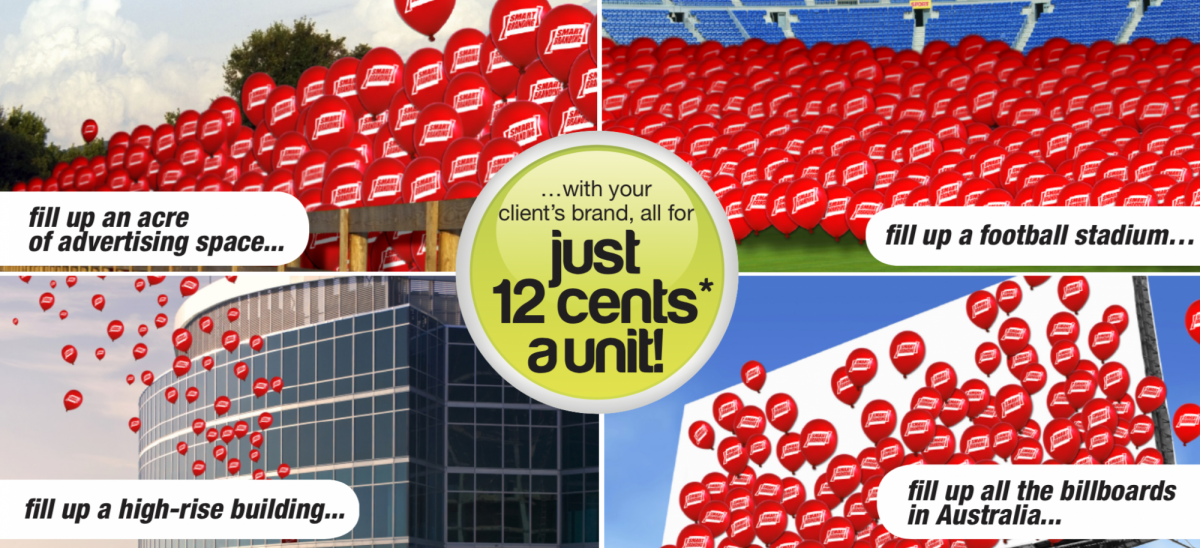 Balloons are a great way to advertise your business. Who can resist looking at the colourful, airy shapes rising above buildings or bobbing in front of your store? Balloons attract attention and bring smiles.
When your logo or advertising slogan is imprinted on the balloon, it becomes an effective marketing tool that works for your business 24 hours a day. Not only are they effective for everyday advertising, they are powerful advertising tools for events, promotions, product launches and grand openings.
Publicise Events With Balloons
Balloon advertising can be tied into your overall marketing strategy. Whether your event is unique to your own shop or to a nationwide promotion, balloon displays catch the eyes of passers-by.
With your promotional message printed on the balloon, your audience is immediately informed and drawn into the event, be it a half-price sale, store opening or launch of a new product.
Small balloons can be distributed as souvenirs and gifts at your establishment. Instead of a paper calling card or brochure, a balloon printed with your company name, logo and product serves as a fun reminder of your business and its services.
To enhance an event, use a balloon artist who has the expertise to entwine different colours and types of balloons into shapes ranging from cartoon characters to architectural features. Balloon entryways beckon casual street traffic and customers into your business. Inside, printed balloons reinforce the event's message.
Easy Outdoor Installation
Outdoor displays can be placed almost anywhere such as in a storefront, in a carpark, on a rooftop or at an entrance. Rooftops are a favourite place to install outdoor inflatable balloons.
Bobbing in the wind 20 feet above buildings, they are visible from the street and from a wide area around the venue. Other locations are also effective. Install a balloon display on the grass in front of your building or incorporate it into the landscape.
Helium-filled balloons last up to 10 hours, long enough to attract attention to a one-day event. Balloons filled with air can last several months, a bonus in advertising a long-term product or offer.
Cost-Effective Attention-Grabbers
Attracting attention is the first step in marketing awareness. Balloons are one of the most cost-effective forms of advertising available. From the time a balloon is launched to the time it is taken down, it works 24 hours a day as an advertising tool. Balloons filled with air used indoors stay inflated for several months, one of the least expensive ways to advertise.
A balloon display in front of your door in a mall gets you noticed and sets you apart from all the other shops in the building. As people pass by, balloons create an awareness of your establishment.
One of the best features of balloon advertising is that balloons are 100% customisable. Working with a professional balloon designer, you can custom-design the text, photographs or other graphics on a balloon. You can also select from a wide range of colours for balloons for further customisation.
When balloons are inflated, the latex stretches, which can affect the visibility of the print. Here at Specialty Balloons, we work closely with our customers to ensure that critical information is properly placed. In-house designers make sure the graphics and print on the balloons are oriented for the best view and properly reflect the advertising goal you're after.
Stripes, hearts, blocks of colour, logos and figures are just a few of the decorative details that can make your balloon unique. Add a banner for a bigger impact. Imprinted with the specific text of your event or marketing campaign, balloons of all sizes grab attention and deliver your message effectively.
For more information about customised balloons and balloons for advertising, call us on 1300 720 230 or email us at Specialty Balloons. From our offices in Australia, we ship balloons all over the world!