How to use balloon printing in marketing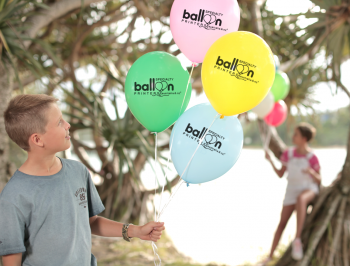 Running a small business is hard at the best of times – and most business owners would agree that coordinating a marketing campaign can be the least of your concerns when you've got clients to attend to and urgent business matters to take care of. Nevertheless, it's important to get your business noticed, and it's hard to cut through traditional media channels to be effective. Balloon printing can be a fun, easy and cost effective way to do something different in getting your business out there.
Balloon printing means celebrations
People associate balloons with good times. Birthdays and other festive occasions are usually the first thing that spring to mind. So why not capitalise on those positive associations and have your logo printed on balloons. Setting up a balloon arch or sculpture at key times like sales events can have a great impact on passers by, who may be intrigued enough to stop in.
Family fun
Handing out balloons is another great option for distributing your business name. If your business is appearing at a fete, fair or festival, distributing printed balloons on strings is always a winner. Parents will love that you are providing their kids with free entertainment, and your business will be known as one that caters to customers of all ages.
There are so many more options than just these for how to use balloon printing to help meet the marketing or promotional needs of your growing business. Get in touch with the team at Specialty Balloons so they can tell you more about the balloon printing options available today.